As we reach the end of 2022 we though it would be both interesting and useful to review the Top 10 law firm M&A transactions of the last 12 months.
As a specialist law firm broker, Millbourn Ross tracks all UK law firm M&A activity. To our knowledge there have been at least 51 M&A transactions in 2022 and we're sure that there have been others that fall under the radar of public domain information and media news.
To put this into some kind of context this is similar the 50 transactions in 2021 and is higher than the 44 in 2020, perhaps not unsurprising given that 2020 heralded different priorities than other years. What will be more interesting is whether the trend in next few years will match expectations of accelerated consolidation.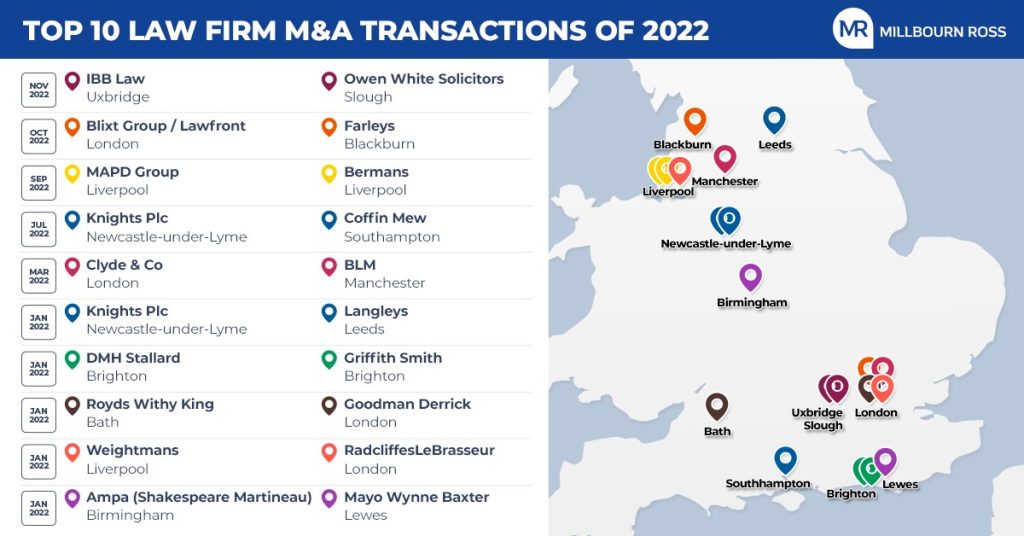 It's not unusual for the start of a year to bring with it an abundance of M&A announcements. January 2022 recorded no less than five of the Top 10 transactions of the year.
Both Weightmans with its acquisition of Radcliffes LeBrasseur and Royds Withy King with its acquisition of Goodman Derrick significantly strengthened their London presence. In our experience, London continues to be high on the list of priorities for some of the regional and national firms whose current presence in the capital is lighter than they would like, so opportunities to bolster this presence are sought after. That said, firms that fall between the £3m to £30m revenue range make attractive targets overall, subject to the usual considerations of work types, client base, talent, profitability, property etc.
At the same time Ampa with its 'House of Brands' strategy and Knights, both recognised as having ambitious acquisition strategies, announced transactions that would increase their national footprints with acquisitions of Mayo Wynne Baxter and Langleys respectively. DMH Stallard announced a significant transaction closer to home in Brighton with the acquisition of Griffith Smith.
The largest transaction of the year in March 2022 goes to Clyde & Co with its merger with BLM.
Knights has been the most acquisitive of the PLC's and announced a second transaction in July 2022 with the acquisition of Coffin Mew in Southampton. However their share price at the start of 2022 was 400.00 but as of 20 December 2022 is trading significantly lower at 104.00.
Liverpool based MAPD Group acquired a majority stake in fellow Liverpool based firm Bermans in September 2022.
Whilst there's lots of speculation about Private Equity investment entering the legal sector, the first Private Equity backed transaction of the year was announced in October 2022 by Blixt Group via their Lawfront brand, acquiring Farleys in Blackburn. This acquisition represents the second national hub for Lawfront with the first being Fisher Jones Greenwood in Essex from August 2021.
Lastly, IBB Solicitors whose HQ is in Uxbridge acquired Owen White in Slough in November 2021 to increase their Berkshire presence.
Looking through a different lens
Further analysing the Millbourn Ross data, we took a moment to apply the HQ data points of both the acquirer and acquiree or the merged entities from the Top 10 M&A Transactions of 2022 to a UK map. London and the North-West come out as the M&A hot spots within this small sample. Whilst it is likely this trend will continue, perhaps in 2023 we'll see activity from the South-West, East Midlands and Anglia as firms look to nationalise.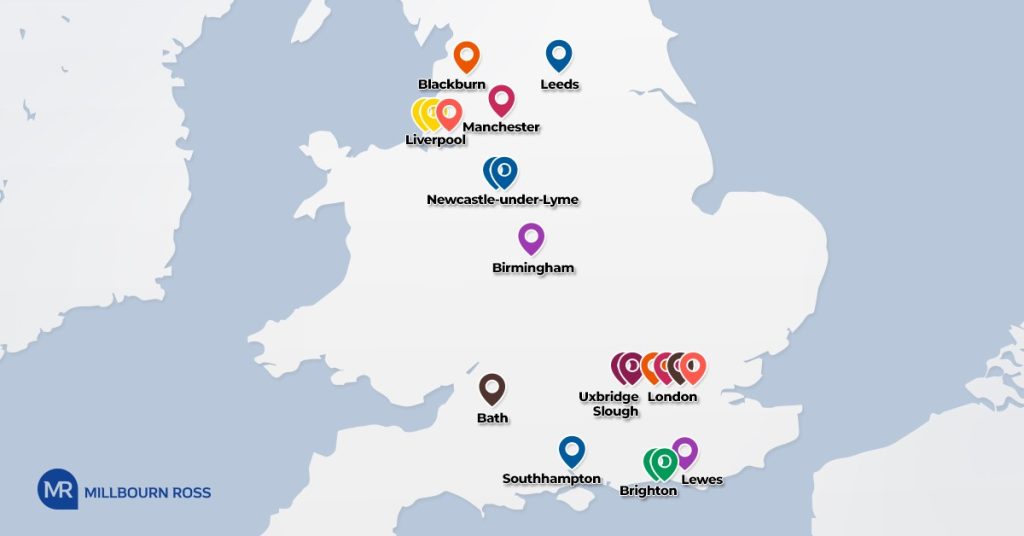 Looking Ahead
At the recent Alternative Legal Management Summit hosted for Managing Partners and CFOs/FDs of mid-tier law firms, one of the most engaging sessions was around 'Funding for growth: exploring the options and strategies for growth in the legal sector'. The key takeaway was that the next five years are going to be a busy time for law firm M&A.
Sustainable and profitable growth is on every agenda. Factoring in the considerations for succession planning, increasing regulatory burden, changing working behaviours, PII, recruitment & retention and property means that some firms will find it more manageable to exchange independence, autonomy and identity for accelerated growth, security and certainty.
Overlay these traditional challenges with the prospect of a period of financial instability and insecurity which may lead into an economic depression or recession, we believe that M&A will move up the agenda and become a serious consideration in order to grow and/or future proof the business.
---